Transition Planning
Advancing current workers
Mission Statement: "Nurturing current employees to help advance their level of workplace essential skills to sustain and grow the organization's competitive advantage."
Meets the 3rd Wednesday of each month at 9:00 am.
---
Quarterly Workshops
We invite you to participate in the quarterly luncheon workshops held at various locations around Quincy.
Next Event | Business Communication
Guest Speaker | Debbie Reed, President / CEO Chaddock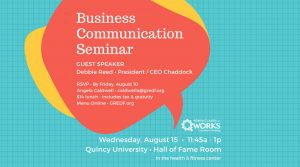 Wednesday, August 15 | 11:45a – 1p (Facebook Event)
Quincy University Hall of Fame Room
1901 Oak St, Quincy, IL 62301
(In the Health & Fitness Center)
RSVP by Friday, August 10 with caldwella@gredf.org
Menu $14*
Assortment of ham, turkey & veggie sandwiches/wraps,
Chefs choice salad,
Homemade chips & dip,
Fresh cut fruit,
Double Chocolate Brownies,
Lemonade, tea & water
*Cost includes tax and gratuity
---
---
Past Events

Time Management
SPEAKER | Amy Looten, Sr. VP Marketing & Business Development

Managing Teams
SPEAKER | Dr. E. L. Warren
Senior pastor at The Cathedral of Worship Church- Quincy
Effective Communication | Deciphering Communication Styles
SPEAKER | James E. Sours, ALCPC Consulting
ALCPC represents the 5 steps of Integrity Coaching; Ask, Listen, Coach, Praise, Challenge.
Presenting on working with someone who is difficult to communicate with, how to be better understood and adjusting our communication to be more effective and efficient.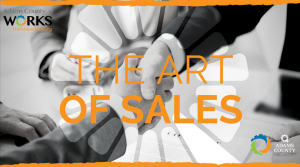 The Art Of Sales
SPEAKER | R.J. (Bob) Ley, VP of sales and marketing for Western Catholic Union
Seminar to provide guests with the tools to paint their masterpiece, as sales is trill an ART form.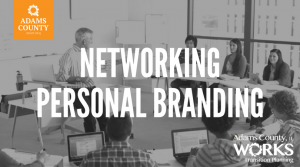 Networking & Personal Branding
SPEAKER | Zach Hesterberg – Founder & CEO, So Zesty Social Media & Marketing
Presentation on what a personal brand is and how to develop a personal brand using social media.