Transition Planning
Advancing current workers
Mission Statement: "Nurturing current employees to help advance their level of workplace essential skills to sustain and grow the organization's competitive advantage."
Meets the 3rd Wednesday of each month at 9:00 am.
---
Quarterly Seminars
We invite you to participate in the quarterly luncheon seminars held at various locations around Quincy.
Next Events
3rd Quarter | Public Speaking / Presentations 
Guest Speaker: Laura Sievert, executive director of Arts Quincy
---
Upcoming Seminar
Date: May 12, 2021
2nd Quarter | How to Manage Conflict
Guest Speaker: Kiona Wright Training Instructor at Blessing Health System
Zoom Credentials: Email Angela Caldwell
---
Past Events
New Year, New You | How to build a business Brand
Guest Speaker: Abby Schleuter, Owner: Lavish Floral Design; Quincy Tea Co.; Party, Girl and Love Always, Abby.
Learn more about her story and transition from working for a larger business to working for herself and becoming an entrepreneur.
What are some questions to ask yourself and decisions you make when deciding to go into business for yourself.
How to develop an identity for your business?
How do you use social media and online platforms?
What are the top three things that impact either a personal brand and/or a business?
What are some of the pitfalls, but also what are some satisfactions?
How To Manage Remote Work
Guest Speaker: Diana Mast, Sr Project Delivery Specialist of Blue Cross Blue Shield
Keeping remote employees engaged and productive,
What attributes make a good remote worker,
What are some tips on being effective and productive as a remote working,
How to handle mental health and transitioning to having coworkers not physically there.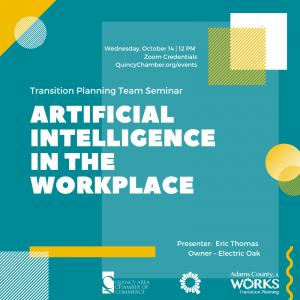 Artificial Intelligence in the Workplace
Guest Speaker: Eric Thomas, Owner – Electric Oak
The past, present, and future of AI: what it is, where it's going, and what and how you should prepare. as you prep for your career.
Leading From Within
Guest Speaker: Guest Speaker: Julie Boll, Dare to Lead Facilitator
Strategic Planning & leadership training.
Learn more about your leadership style when faced with difficult situations. Understand your go-to shield when faced with difficult situations. Do you move away, move forward or move against?

Increasing the Bottom Line Through Inclusive Culture
Guest Speaker: Latonya Brock, Executive Director, Quincy Area Chamber of Commerce
Topic Overview: "Monkey Business….Business a monkey can do!"

Self-Branding
Guest Speaker: Craig Heming of Doors-N-More
Topic Overview: "Monkey Business….Business a monkey can do!"

Networking – More Than Meeting New People
Guest Speaker: Mike Elbe, president of John Wood Community College

Financing Your Future
Guest Speaker | Craig Moncey
IPI Wealth Management & Co-Chair of Adams County Works Transition Planning Team

Leadership Seminar
Guest Speaker | Casey Ragar, United States Marine Corps, Retire

Goal Setting
SPEAKER | Phil Conover, president Quincy University

Mentoring
SPEAKER | Marty Bell, VP of Intercollegiate Athletics at Quincy University.

Business Communication
SPEAKER | Debbie Reed, President / CEO Chaddock

Time Management
SPEAKER | Amy Looten, Sr. VP Marketing & Business Development

Managing Teams
SPEAKER | Dr. E. L. Warren
Senior pastor at The Cathedral of Worship Church- Quincy
Effective Communication | Deciphering Communication Styles
SPEAKER | James E. Sours, ALCPC Consulting
ALCPC represents the 5 steps of Integrity Coaching; Ask, Listen, Coach, Praise, Challenge.
Presenting on working with someone who is difficult to communicate with, how to be better understood and adjusting our communication to be more effective and efficient.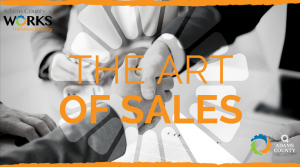 The Art Of Sales
SPEAKER | R.J. (Bob) Ley, VP of sales and marketing for Western Catholic Union
Seminar to provide guests with the tools to paint their masterpiece, as sales is trill an ART form.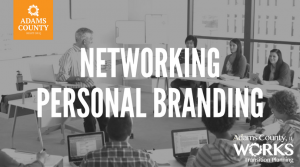 Networking & Personal Branding
SPEAKER | Zach Hesterberg – Founder & CEO, So Zesty Social Media & Marketing
Presentation on what a personal brand is and how to develop a personal brand using social media.