A look back at 2010: Quality of Life
The sixth in our series of articles highlighting the remarks of GREDF Board Chairperson, Connie Schroeder at our 2011 Annual Meeting.
[share] A look back at QUALITY OF LIFE in the tri-states in 2010…
So we think the Quincy area is one of the best places to live in America. Our region has a low cost of living, great schools, low crime, good healthcare and an abundance of parks and recreational opportunities. We enjoy the availability of affordable housing, we have a love for the arts and many more factors that make the tri-states a great place to raise a family.
Speaking of raising families… In October Forbes Magazine ranked Quincy number eight on its list of the Best Small Cities to Raise a Family. We are honored to have received the recognition, but not that surprised. The magazine compared Quincy to 126 other cities with a population under 100,000 and ranked us on five quality of life measures including short commute times, percentage of adults with a high school degree, median household income, rate of home ownership and housing affordability.
Quality of life is a phrase often used in economic development. That's because it's an important factor in expansion and site selection decisions. After all, a business is only as good as its employees and a high quality of life leads to happy and productive employees. That's why we continue to celebrate and support organizations and people who are contributing to our region's excellent quality of life.
Just a few notable projects and events from the past year…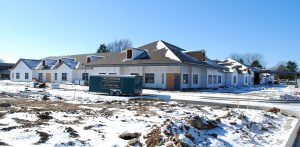 The Quincy Public Library is in the midst of a $5.5 million dollar renovation project to better serve the needs of the community. Good Samaritan Home is making progress on the second phase of their major construction project. The Foose Center for Alzheimer's care is complete and when the entire $20.7 million dollar project is finished, Good Samaritan Home will have doubled its number of licensed and private rooms.
130 veterans from the tri-states experienced the national memorials constructed in their honor in Washington, D.C. thanks to the Great River Honor Flight and the individuals and businesses that support the organization. Two more flights are already scheduled for this spring.
The Home Builders Association of Quincy completed its first-ever Charity House building project in September. Over one hundred volunteers donated their time and materials for the project. Proceeds from the home's auction were donated to Habitat for Humanity and Camp Callahan.
The City of Quincy was recognized with an Arts Friendly Community Award honorable mention by Arts Alliance Illinois and the Illinois Municipal League. Quincy was one of ten cities in the state chosen because our community leaders recognize the importance of the arts in fostering a vibrant and creative community.
Quincy-based Red Cactus Salsa partnered with The First Tee National Office and is donating a percentage of all its retail sales to support First Tee's mission and core values including responsibility, honesty and confidence. The First Tee of Great River has been serving children in the tri-states for over a decade.
In March Quincy-native and Olympian Caren Kemner announced the formation of the Quincy Riverfront Athletic Association, a committee of parents, athletes and business leaders who are working toward accreditation with the Community Olympic Development Program. It's about creating opportunities for kids and drawing on community resources, says Kemner.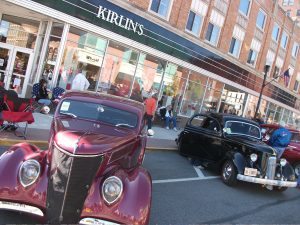 TNT Kartways celebrated 50 years during their Vintage Kart Olympics in September. Owner and founder Gus Traeder, who is a member of the Racing Hall of Fame, built the facility after years of promoting the sport. And more than nine hundred street rod owners converged on Quincy for the 35th annual Early Tin Dusters Color Run in October. The event brings about two thousand visitors to the area and generates between $700,000 and $1 million dollars for the local economy.
Tourism remains strong in the tri-states. Adams County ranked 22nd out of 102 Illinois counties in visitor spending. Visitors spent $78 million dollars and created 740 jobs in 2009. The Quincy Area Convention and Visitors Bureau is now part of Travel Mississippi River, a 15-organization, 2-state effort to market river communities.