A Look Back at 2010: Transportation
The eighth and last in our series of articles highlighting the remarks of GREDF Board Chairperson, Connie Schroeder at our 2011 Annual Meeting.
[share] A look back at TRANSPORTATION in the tri-states in 2010…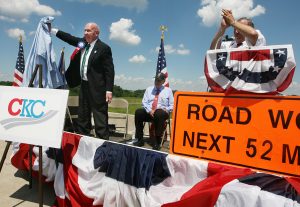 When it comes to transportation developments, I'll sum it up with one phrase, "We've come a long way, baby!" The term Forgottonia is all but forgotten thanks to transportation successes over the past decade. Much of that success can be attributed to the leadership of the Tri-State Development Summit and its transportation task force.
The biggest accomplishment of 2010 came with the completion of the Chicago to Kansas City Expressway, or CKC.  And while Summit task force members have been working for years, tri-state highway champion, Tom Oakley has been at it for decades. Tom's vision and perseverance is the reason we will see tremendous economic benefits for the communities along the route which was given the common designation of Route 110.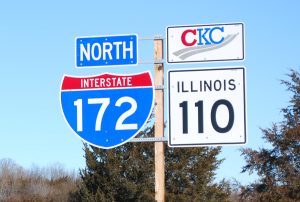 The next steps involve working together to promote the CKC as an efficient, less congested route between these two major Midwestern cities. Summit leaders have mailed information about the CKC to 400 civic and business leaders in the communities served by the corridor. The four-lane highway provides even greater access to companies requiring dependable transportation methods and now is the time to tell the world that the tri-state region is open for business.
In other highway news, U.S. 34 four-lane upgrades from Gulfport to Monmouth are closer to reality. The $73 million dollar project is a result of the capital construction bill approved in 2009. IDOT officials announced that the Biggsville bypass portion will be the first phase of construction because it serves a school where traffic safety is a concern.
It was a year of highs and lows for supporters of the Mid America Intermodal Port Authority. In spite of missing out on both TIGER One and TIGER Two infrastructure grants, significant interest in the South Quincy Development District and the Port remains. The river is without a doubt one of our greatest tri-state resources and it provides huge opportunities for our area industries to compete internationally. We will continue to work toward the foreign trade zone status the intermodal port would offer.
U.S. Representative John Mica, the chairman of the House Transportation and Infrastructure committee joined Representative Aaron Schock for a tour of the South Quincy District and proposed Port site in August. Mica said the Port, along with other projects in the region, could add hundreds and possibly thousands of jobs. In a follow up letter, Representative Schock said the meeting and news conference were wholly successful. I'd like to welcome Carol Merna, District Chief of Staff for Congressman Schock. Thanks for joining us.
To date, $12.5 million dollars in infrastructure work has been completed at the proposed Port site. This investment along with the support of private companies has encouraged us to not give up. The city, county and region are committed to establishing the port facility and look forward to one day seeing its potential realized. 
Regional air service has come a long way since Cape Air began providing service just over a year ago. Six weekday flights to St. Louis, low fares and a code share agreement with American Airlines have all contributed to the highest passenger totals since 2006. Airport Manager Marty Stegeman says that Quincy Regional Airport could see 10,000 enplanements this year which would mean more federal dollars for the facility.
Andrew Bonney, a Vice President with Cape Air who spoke at our 2010 annual meeting, intimated there is a possibility that the company could establish a maintenance base at the Quincy Regional Airport.