Quincy Area Safety Council Sponsors 2011 OSHA Update
[share] The Quincy Area Safety Council (QASC) will sponsor a 2011 OSHA Update Course on Thursday, November 10th from 9:00 am to 12:00 pm at Vatterott College in Quincy.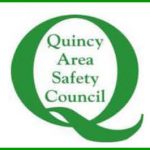 The 2011 OSHA Course is designed and intended to provide an update on the OSHA inspection process, recent changes in penalties, Severe Violators Enforcement Program, effective safety and health programs, OSHA recordkeeping, emergency action plans and more. There will be a time for questions and answers. Registration fees are $40 for members and $55 for non-members. The deadline to register is Monday, November 7th.
Other topics to be covered include:
OSHA's National and Local Emphasis Programs
Global Harmonization System Update
Hazard Communication
Personal Protective Equipment
Electrical Hazards
Control of Hazardous Energy (Lockout/Tagout)
Confined Space Entry
Brian Bothast, Compliance Assistance Specialist, Occupational Safety and Health Administration, is the instructor. Brian works out of the OSHA Region 5- Peoria Area Office where he has served as Team Leader and Industrial Hygienist. He has worked for Catepillar in the Environmental, Health and Safety Department and has over 20 years of experience in the safety and health field. He is a graduate of Illinois State University with a Bachelor of Science in Environmental Health.
For more information and to register, visit www.QASC.org or call /email: 217.224.0149 / qasc@adams.net.
The mission of the Quincy Area Safety Council is to improve safety in Quincy and the surrounding area through a network of safety-minded individuals acting to predict, prevent, and minimize accidents.