[share] Group to Discuss Upper Mississippi & Illinois Rivers Locks & Dams at Roundtable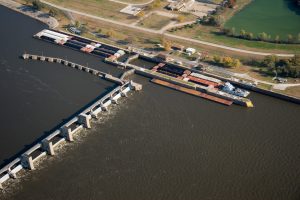 A roundtable will be held to discuss the importance of upgrading Upper Mississippi and Illinois Rivers Locks and Dams on Monday, November 28, 2011, at the Oakley Lindsay Center. The meeting is being hosted by the Great River Economic Development Foundation.
Garry Niemeyer, President of the National Corn Growers Association will chair the roundtable. The proposed agenda includes, among other topics, the following:
Explanation and discussion of the Waterways Council, Inc. Capital Development Plan, Paul Rohde, Vice-President of Waterways Council, Inc.
Priority list for locks and dams upgrades and repairs including budget and its impact on operations and maintenance, Army Corps of Engineers Representative
Assessment on current situation in Washington, the Administration's proposal and the Corps' budget, Adam Nielsen, Illinois Farm Bureau Representative
This roundtable is a follow-up to an earlier meeting that was held in conjunction with and immediately following the 9th Tri-State Development Summit on October 5, 2011 in Quincy. During that meeting, the group, which consists of representatives from private companies as well as agriculture, waterways and transportation associations, decided it was time to move beyond studies and analysis and into action.
In testimony on September 21, 2011, before the House Transportation and Infrastructure Committee's Water Resources and Environment Subcommittee, Waterways Council, Inc. President and CEO Michael Toohey recommended the Inland Waterways Capital Development Plan as the path forward to improve the reliability of the crucial system and its infrastructure over the next 20 years.
"The inland waterways system is one of this country's greatest assets. For over 200 years, our river system has facilitated affordable, reliable and environmentally friendly transportation as the building blocks of our economy," Toohey testified. "It has allowed the low cost movement of large bulk commodities in an efficient and timely manner. But despite all of these advantages, our inland waterways infrastructure is suffering and in need of immediate modernization," he added.