[share] The Rural Adams Development Corporation Annual Meeting will be held Wednesday, July 25, at 7:30 am at Beckman Seed Sales in Paloma. Owners Chuck and Mary Beckman received a loan from RADC to build their new soybean treatment and warehousing facility on a five-acre site about a half-mile west of Paloma on U.S. 24.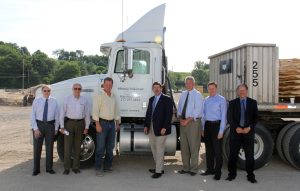 Formed in 1990 by a group of rural Adams County bankers, the electrical cooperative and the Great River Economic Development Foundation (and later joined by Adams Telephone Cooperative), RADC has since administered 63 loans totaling $1,969,631. The group is celebrating its 22nd official Annual Meeting and the fact that their revolving loan fund has never incurred a single loss in its entire history.
"While a couple of the businesses that were assisted by the RADC later ceased operations, their loans were repaid in full," says RADC Board Member and GREDF Entrepreneurship Specialist, Charles Bell.
The RADC's low-interest, revolving loan fund is designed to finance projects which will create or retain jobs in rural Adams County. One success story belongs to Chuck and Mary Beckman, who have spent their entire lives in service to local agriculture. "When Channel Seed Company wanted to move the seed treatment and distribution processes closer to farmers, necessitating a new facility, we knew the Beckmans would do a great job with it," says Mark Field, RADC member and President and Chairman of the Board of The Farmers Bank of Liberty.
Another new business success story is that of Alliance Industrial. "Rob Albsmeyer came to us with the idea to start Alliance Industrial when he had the opportunity to buy out the equipment from his former employer and put his experience to work," says Mark Field, "He knew the market, had the experience and had a good plan. We offered some low-cost financing and now he is employing a dozen people at his pallet company."
Types of assistance provided by the RADC include:
Seed money, venture capital, or gap financing for which no other resource exists
Funding for businesses that lack adequate equity or operating history for conventional loans
Investment in projects that need greater owner equity in order to obtain bank or government assistance.
Anyone interested in starting or expanding a business in rural Adams County is encouraged to talk to any RADC participating bank or GREDF. RADC member banks include:
Central State Bank (Clayton)
Farmers Bank (Liberty & Payson)
Farmers State Bank of Camp Point
First Bankers Trust (Mendon & Paloma)
Golden State Bank
North Adams State Bank (Camp Point & Ursa)
State Bank of Lima
The RADC can also draw on the expertise of its investors and members to assist businesses. Through its public/private partnership, the RADC encourages municipal units to take an active interest in economic development.