The third in our series of articles highlighting the remarks of GREDF Board Chairperson, Connie Schroeder at our 2011 Annual Meeting. 
[share] A look back at HEALTHCARE in the Tri-States in 2010…
An editorial in the Quincy Herald-Whig sums up healthcare in our region best, quote, "Physicians who want a high quality of life for themselves and their families can find it in the Tri-States. In return, they help maintain a quality of life and quality of care for this region," end quote.
Blessing Hospital's year-long anniversary celebration was marked by two high points. In March the American Nurses Credentialing Center gave Blessing Hospital Magnet status for nursing quality, an honor earned by only six percent of hospitals in America. In October, the AAIM Employers Association out of Peoria recognized Blessing Health System as its Employer of the Year. The award honors great employers that recognize people as their greatest asset.
We would like to congratulate former GREDF board chairman Brad Billings for being recognized as a Quincy Area Chamber of Commerce 2011 Business Hall of Fame inductee. It is well deserved.
S.I.U. Quincy Family Practice Center just last week received two awards for excellence in the fields of care for diabetes and coronary artery disease. The Family Practice Center ranks among the top 5 percent in the state among similar operations.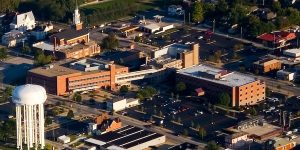 In October Quincy Medical Group announced a comprehensive community wellness program called Bridge the Gap to Health. The program combines preventive health care, personal nutrition and fitness and a partnership with Jackie Joyner-Kersee to get people moving toward better health. The Quincy Medical Group Foundation is also partnering with the Salvation Army to raise $2 million dollars for their new emergency shelter. We'd like to take this opportunity to welcome Quincy Medical Group CEO Aric Sharp to the GREDF board.