[share]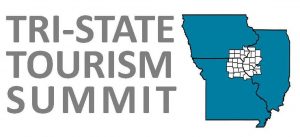 YOU ARE INVITED!
Tri-State Tourism Summit
August 11, 2015
Mt. Pleasant, Iowa
10:00 am – 3:00 pm
You are invited to join the Tri-State Development Summit Tourism Task Force for the first Tri-State Tourism Summit. Speakers include experts in digital marketing, social media, tourism ROI, customer service and more.
WHO SHOULD ATTEND?
Tourism, travel and hospitality professionals; convention and meeting planners; chamber of commerce and downtown/main street representatives; museum directors; small business owners; elected officials and anyone interested in learning more about digital marketing, social media, customer service and building great guest experiences in their community.
WHAT CAN YOU EXPECT?
An action-packed agenda will include presentations by the Illinois and Missouri State Tourism Directors, a resource fair and brochure exchange (bring your brochures to share with your colleagues), networking lunch, panel discussions on social media and digital marketing and ROI of tourism and a keynote address, "Build Great Guest Experiences" by nationally-recognized speaker and trainer for the tourism and hospitality industry, Phil Bruno.
As an added bonus, our friends at Mt. Pleasant Area Chamber Alliance and Midwest Old Threshers invite you to an After-the-Summit FREE Ice Cream Social on the grounds of Midwest Old Threshers. Enjoy the best soft serve ice cream around while touring the grounds on the electric trolley, taking in the museums and if we're lucky, riding the steam-powered carousel.
REGISTRATION INFORMATION
Download the registration form here. Advance registration is required. The cost is $25 per person and includes lunch. The deadline to register is Tuesday, August 4th. Early Bird Giveaway – Register by July 24th for your chance to win 2 round-trip tickets from Air Choice One or Cape Air. Two winners will be chosen at random from paid attendees list as of 5pm on July 24th. Winners will be announced at the Summit.
Please help us thank our SPONSORS for making this event possible.
Sponsorship and exhibitor opportunities are still available. Call Maggie at 217.223.4313 or email info@tristateofmind.org for more information.