Adams County Works
Adams County Works Keeps Focus on Workforce Development in the Region

[share]Community and business leaders and stakeholders are making progress on a shared vision for workforce development in the Adams County region and are underscoring these efforts with a new brand. Representatives from the three Adams County Works teams shared progress and accomplishments as part of a press conference held on September 1st, in celebration of Illinois Workforce Development Week.
Previously known as the Adams County Workforce Initiative, Adams County Works is an effort that began in 2013 to identify and address critical workforce issues.
 The overarching goals of Adams County Works are to:
Prepare youth to enter the workforce
Connect the willing to work
Advance current workers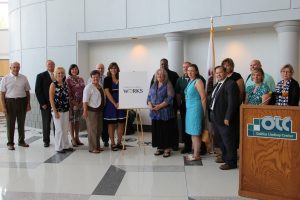 Three teams have been established to achieve these goals:
Career Guidance Team: Working with businesses to convey to individuals the career opportunities and earning potential available in the Adams County region
Work Readiness Team: Developing work-ready citizens to become successful, productive members of the regional workforce
Transition Planning Team: Ensuring that as workers retire, the knowledge of those retirees stays with local companies and within the community
Adams County Works is being guided by a steering committee consisting of representatives from the Workforce Board of Western Illinois, John Wood Community College, United Way of Adams County, Quincy University, West Central Region Education for Employment System #240, Quincy Public Schools, Vatterott College and the Great River Economic Development Foundation. 
In the coming weeks, eDevelopments will feature the work and accomplishments of each Adams County Works team, as well as provide information about how employers and individuals may get involved. Anyone interested in becoming a member of one of the Adams County Works teams should contact Angela Caldwell at 217.223.4313 or caldwella@gredf.org.