[share]
Pathways to Results Process Connects Education and Business Resources; $500,000 Grant Boosts Effort
The new world of advanced manufacturing requires a drastically different set of skills from its workforce. On October 25, 2012, private business, education and economic development leaders signed a charter to formalize the "Pathways to Results" process.  The process aligns K-12 coursework with college degrees and business resources to give students the new skills needed to ensure family-sustaining careers in our region's manufacturing sector.
The signing is the latest step in a concentrated effort to change the perception of manufacturing and build the workforce of tomorrow. The charter collectively commits business and K-college entities to clearly define a path for manufacturing careers while boosting resources, equipment and expertise available for students to attain careers in the high-tech industry.
Defining the Path
High school students have clearly defined pathways leading to four-year college degrees. Therefore, parents and the community have an expectation that their high school students will pursue a four-year degree even though many college students have no real idea what career they might pursue upon graduation.
Manufacturing jobs do not currently have a defined educational pathway, which is an even bigger obstacle for parents and counselors trying to guide students into these high demand jobs.
Pathways to Results seek to insert a systematic process for communication with high schools including pathways, preparation, transition and curriculum alignment to make things clearer for students and their advocates.
"It is hard enough for students to know which career path to choose," Pam Foust, dean of career and technical education at JWCC said. "When they determine a focus, possibly in high school, they might find that they haven't taken the courses to enter college ready to master evolving skills employers want. What Pathways to Results does is to clearly define the math, science and critical thinking skills that need to be in courses from kindergarten through high school.  With these basic skills, any evolving manufacturing technology can be learned from college instructors who will have access to the latest equipment and processes."
Funding the Process
JWCC received a $10,000 grant from Office of Community College Research and Leadership as part of the state's effort to improve career pathways.  The College and its partners intentionally linked Pathways to Results funding with a federal grant in an effort to grow a skilled workforce to fulfill current and future manufacturing industry needs.
Phil Conover, interim president of the Great River Economic Development Foundation, announced that as a result of collaborative partnerships, John Wood Community College received a $525,769 grant from the Trade Adjustment Assistance – Illinois Network for Advanced Manufacturing Grant (TAA-INAM).  JWCC is one of 20 Illinois community colleges that received funding from the Department of Labor.
"Because of the partnerships built over the last several years, this funding uniquely positions the region to prepare future technicians, engineers and managers as our manufacturing industry expands," Conover said.  "This process, when integrated, is a tremendous platform to attract new manufacturers to the region because we will have the skilled workforce they require to be successful."
The half million dollar grant will be received over a three-year period to expand and improve the delivery of career manufacturing training programs.  The training will lead to industry-recognized certificates or associate degrees that can be completed in two-years or less to meet regional employer needs.
Funding will provide for equipment, course development, advising, instructional support, software, program coordination, internship mentoring, tutoring and supplies.  The grant will also fund the hiring of personnel to help students transition from high school to college and college to careers.
In addition to state and federal funding, Lauren Kiest, an owner in aNH3, a company that supplies  products for the agricultural industry, recently created a private manufacturing scholarship with the JWCC Foundation to help students access funds to receive the new skills training needed for today's industry.
Current Climate
Manufacturing accounts for 17 percent of this region's economy, yet few students are transitioning from high school to John Wood Community College's manufacturing program.  JWCC is the only area institution to offer specific degrees and certificates leading to careers the industry demands.  Currently four JWCC students have declared advanced manufacturing as their major.  Twenty-six JWCC students are pursuing welding certificates or degrees; 12 are pursuing a degree in computer-aided design (CAD); and 39 students have declared their intent to earn a degree or certificate in electrical technology.
At the high school level, Quincy Area Vocational Center (QAVTC) has a total of 35 students in day technical programs including CAD/drafting, electronics, precision metals and welding.  Twenty students from rural schools are enrolled in QAVTC's evening programs. An additional 80 students are enrolled in Project Lead the Way at QAVTC.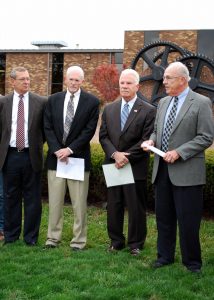 Workforce shortages are growing in areas such as industrial maintenance, (programming and maintaining technologically advanced equipment), precision machining, welders and automation systems. The current high school and college students studying for these careers will not come close to filling current and future positions available with the area's 100 manufacturing firms.
"Manufacturing is a whole new world," Roger Leenerts, business owner and Pathways to Results charter member said.  "For many years it has not been suggested as an ideal career path, that it is low paying, dirty and unstable.  The reality is that it requires a highly skilled workforce to maintain high tech machinery.  We want high school students to see manufacturing as a career, not just a job."
Not Your Dad's Plant – Perception Change Manufacturing has been the economic engine of the region for decades, but gone are the days of man-made assembly lines with workers assembling various product parts.  The industry is rapidly evolving, with clean work environments and head-of-household wages waiting for employees with the right skills.
Students with manufacturing degrees can earn upwards of $60,000 because they possess the knowledge and skills to manage all or portions of automated processes from design, logistics and production.  Candidates with specialized knowledge of electrical and computerized components of automated machines can earn between $35,000 and $50,000.  Welders are in high demand and can earn $20 an hour with basic knowledge and much more with additional training. Most manufacturing jobs include solid benefits.
More information is available by contacting Foust at 217.641.4956 or pfoust@jwcc.edu.