Inspire Works Kicks Off to Aid in Workforce Development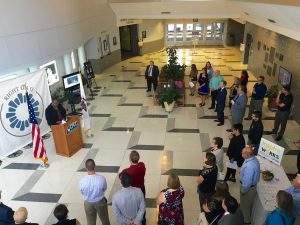 Inspire Works kick off and press conference was held Wednesday, September 14, at 8:30a in the Oakley Lindsay Center – 300 Civic Center Plaza.
Adams County, IL – Workforce development partners on the Inspire Works Team held a press conference on Wednesday, September 14 at 8:30a in the Oakley Lindsay Center to kick off the launch of the Inspire Works program in Adams County, IL.
Inspire Works is an online resource designed to increase communication between students, job seekers, educators and employers. The goal of Inspire Works is to bring those aforementioned groups together to help individuals achieve their career goals and address the workforce development needs of our community. The Inspire Works program was made possible through a number of generous partnerships and grants.
GREDF President, Marcel Wagner gave introductions followed by GREDF Workforce Development Director, Angela Caldwell to give an overview on Inspire Works. Other speakers includedMark Pfleiger of West Central Region | Education for Employment System #240, Brenton Wadsworth of ADM Refinery Manager and ADM Cares, who helped to fund Inspire Works.
Speaking on behalf of the student perspective was Katelyne Lockett, a Quincy Senior High School senior utilizing Inspire Works to connect with businesses in her interest of study, Nursing. She was followed by Heidi Meyer of Quincy Medical Group and Andrew Griesbaum of Blessing Health Systems. The press conference was closed with final remarks by Mayor Kyle Moore.
We are excited to be launching this program through our schools, with our partners and with local participating businesses of all sizes. Having programs like Inspire Works strengthens our regional advancement in workforce development, providing important strategies and solutions.
Information regarding Inspire Works, along with participating partners and businesses, will be available at the press conference. For more information, contact Joi Cuartero Austin at GREDF (217) 223-4313.
Great River Economic Development Foundation is a 501(c)6 not-for-profit organization with a mission to maintain and improve the economic vitality of Quincy and Adams County, IL through the retention and expansion of existing businesses and the attraction of new businesses to our communities.
###