A DAY OF OUTDOOR ADVENTURE
Thank you for a wonderful day!
Saturday, August 11, 2018 from 9 a.m.-5 p.m.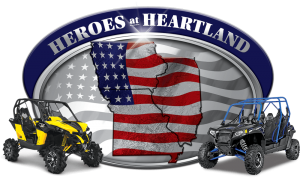 Heroes at Heartland is a day to honor the region's veterans and active duty military personnel, providing them and their families a fun day of outdoor adventures at Harpole's Heartland Lodge | 10236 393rd Street Nebo, IL 62355.
Activities are FREE and include outdoor activities such as off-roading, archery, and trap shooting, with a BBQ lunch  provided.
Must RSVP to Participate
Sign up you and your family: SIGN UP
Volunteer for the day: Volunteer 
*We are looking for team members who are willing to volunteer for various stations at Heartland Lodge. Shifts will be four hours. (Set up, check in, off-roading sign up, hospitality, runners, off roading drivers (IL sticker required), take down).
More Information: Website
---
Partner Organizations
Great River Economic Development Foundation is partnering nationally with Patriots & Heroes Outdoors and locally with Harpole's Heartland Lodge, the Quincy Area Convention and Visitors Bureau, WGEM and The Herald-Whig to host this event.
---
2018 SPONSORSHIPS NOW AVAILABLE
$2,500: Platinum Partner
$1,000: Gold Partner
$500: Silver Partner
In-kind opportunities also available
For more information about becoming a sponsor, please contact the Great River Economic Development Foundation office at 217-223-4313
---