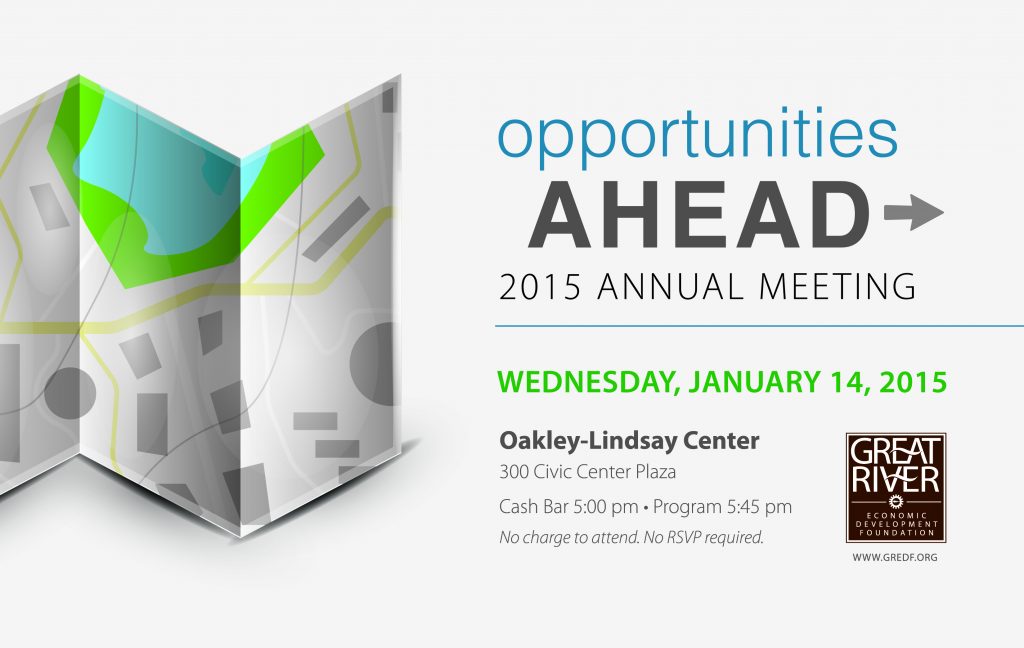 [share]
The Board of Directors and Staff of the Great River Economic Development Foundation
Invite you to attend our 2015 Annual Meeting
Wednesday, January 14, 2015
Oakley-Lindsay Center
300 Civic Center Plaza, Quincy, Illinois
Cash Bar 5:00 p.m.
Program 5:45 p.m.
No charge to attend. No RSVP required.
The Great River Economic Development Foundation's 2015 Annual Meeting will be held on Wednesday, January 14th in Kent Hall at the Oakley-Lindsay Center, 300 Civic Center Plaza in Quincy. Doors open and a cash bar will be available at 5:00 p.m. with the meeting beginning at 5:45 p.m.
No RSVP is required and there is no charge to attend the meeting. Members of the business community and the general public are encouraged to attend.
Current Chairman of the GREDF Board, Dan Henke, will give the 2015 Annual Meeting presentation which includes highlights from the past year. This year's theme is "Opportunities Ahead". GREDF president Marcel Wagner, Jr. will share an update on GREDF's Strategic Plan which was adopted by the Board of Directors last year.
Additional speakers for the evening include Mayor Kyle Moore and Les Post, Chairman of the Adams County Board.
The Great River Economic Development Foundation exists to maintain and improve the economic vitality of the Quincy and Adams County, Illinois, region through the retention and expansion of existing businesses and the attraction of new businesses to our entire region. For more information, call 217.223.4313.