New JWCC Welding Training Opens Pipeline of Skilled Workers for Area Manufacturers
[share] A new four-week basic welding training program at John Wood Community College is opening a pipeline for area manufacturers seeking skilled workers for dozens of open positions.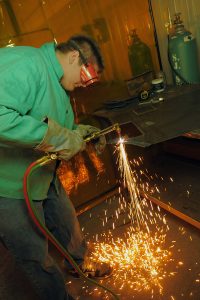 Because of the need to place welders in immediate openings, John Wood created a program to help manufacturers connect with prospective employees armed with basic welding skills.
"In just four weeks, students can have a valuable skill that is in huge demand," Pam Foust, JWCC dean of career and technical education said. "We have a least four employers telling us they need employees with these basic welding skills, so this training can help get their foot in the door."
The new condensed welding program includes a basic welding class and lab and a course in welding symbols and blueprint reading. All are taught by an experienced, local welding professional at JWCC's Workforce Development Center at 4220 Kochs Lane in Quincy.
"John Wood is helping us build a qualified employment pool," Tom Schilson, general manager of Manchester Tank said. "We need employees with the welding skills to hit the ground running. Having that basic skill set and building on it brings value to the company and the employee."
In addition to welding skills, JWCC helps students prepare for employment interviews and offers advice on key soft skills necessary to secure a job.
Knapheide Manufacturing Human Resource Specialist Mike Dailing says that prospective employees need both technical and soft skills to be successful employees.
"We definitely need more qualified workers, but if a prospective employee doesn't have the soft skills such as dependability, motivation and communication, it is unlikely they will have a career with any company," Dailing said. "If an employee doesn't show up on time, has a poor attitude and doesn't work well with others, knowledge of a particular field doesn't matter much."
Patrick Allen of Hannibal, Mo., will complete his JWCC welding certificate in March and already has a job lined up with Knapheide Manufacturing.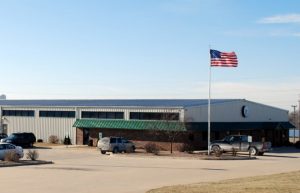 "I like the construction part of welding and grew up watching my grandpa weld in his garage," Allen said. "I started out as a carpenter, and took a temporary job while going to school, but it's pretty clear that there are greater opportunities for people who have advanced welding skills, specifically MIG welding."
Allen says the new four-week basic welding course is a great for someone looking to get into the field, but continued education is key.
"The basics help you learn what welding is all about, but in the long-run you need to learn more than just what's in the book, you need to apply what you learn," Allen said. "If you take the basics, get a job and then come back for more advanced classes, I think you can have a great career in welding."
Following the four-week training, students can add to their knowledge of welding by continuing their education at JWCC. By completing just three additional courses to earn a certificate, a basic welder could gain increased pay and responsibility depending upon their employer's needs and qualifications.
Some companies send employees directly to the training or partner with JWCC for on-site courses. Quincy-based Konstant Products currently has two groups of employees seeking welding certification at JWCC's Workforce Development Center and Westermeyer Industries offers JWCC courses for employees and high school students at its plant in Bluffs.
The first four-week welding session runs from February 13 to March 8. Students take classes Monday through Thursday from 9 a.m. to 3:30 .m. Additional sessions will be offered March 12 to April 5 and April 9 to May 5. Information about how to enter the welding preparation program and possible funding is available at jwcc.edu/weldingprep or by contacting JWCC at 217.641.4329 or admissions@jwcc.edu.