Ready, Set, Go!
[share] Organizers of the Tri-State Development Summit are holding a workshop titled Ready, Set, Go! in Hannibal, MO on March 23 from 10 a.m. – 1 p.m.  The purpose of the workshop is to highlight areas of success and opportunities for economic growth in the Tri-State Development Summit region as we emerge from the economic downturn.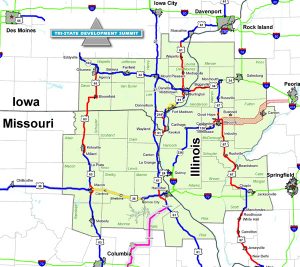 Topics to be discussed include Recreation & Tourism, Workforce Development & Education, Transportation and Business.  Our region is poised for economic growth and prosperity as we enter the recovery phase of the recession.  We have essential infrastructure, recreation & tourism amenities, an un-matched quality workforce and a strong business community.  Businesses, Economic Development Professionals, Educators, Tourism Directors and City & County Government Officials are all encouraged to attend.
The workshop has been planned in partnership with Northeast Missouri Economic Development Council and MoDOT.  Main Street Cinema 8 in Hannibal, MO will be the location of the majority of the workshop.
SCHEDULE
9:45     Registration
10:00  Recreation & Tourism: Current & future trends of leisure travelers; how to capture the market with new and
               innovative events or marketing.
10:30  Workforce Development & Education: What can we do now to prepare our workforce for current and
              emerging industries?
11:00  Transportation: We will discuss the various modes of transportation available to the public and business
              community in the tri-state area as well as what is on the horizon. In addition, we will hear about the economic
              impact of transportation systems and the existing situation in Missouri.
11:30  Business: Panel of 3 businesses discuss why they choose to operate their business in the Tri-State
              Development Summit Region.
12:00  Luncheon Speaker: Pulling It All Together
              Lunch at Kerley's Pub—two blocks from Main Street Cinema 8 (lunch included in registration fee)
1:00    Adjourn
For more information & to register, contact Summit Coordinator, Shelby Crow at sschoon@illinois.edu or 217.223.8380; or download the Workshop Registration Form.

2011 signifies the 15th year for the Tri-State Development Summit.  In the 15 years since the inception; the Summit Region has adopted numerous Task Forces and achieved many successes in each of those task force areas.   The Summit Region now comprises 35 counties in Northeast Missouri, Southeast Iowa and Western Illinois.
Steering committee members have announced that the 9th Tri-State Development Summit will take place October 5, 2011 in Quincy, Ill. The mission of the Tri-State Summit is to bring together leaders in Southeast Iowa, Northeast Missouri and Western Illinois to define common issues; to develop an on-going dialogue to effectively address those issues; and to improve the quality of life of the entire tri-state region through economic development activities.
For more information about the 9th Tri-State Development Summit, visit www.tristateofmind.org.