[share]
Business attraction is like online dating. So what does Adams County's profile look like? Thanks to our partners at Ameren, we now have an updated profile that's sure to get us noticed.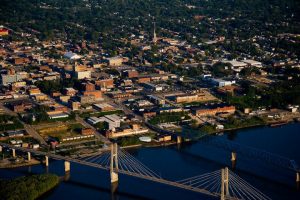 Username: Quincy175
Location: Longitude: -91.1919, Latitude: 39.9369
Zip Code: 62301
Age: 175 years
Population: 67,188
Height: Elevation 768 feet
Body: Above Average
Prominent Features: Mississippi River, Transportation Infrastructure, Architecture, Parks, Downtown, Workforce
Education: Adams County Works – Click here for details.
Income: Average earnings in 2015 – $45,919
Interests: Manufacturing, Distribution & Logistics, Agriculture, Healthcare, Tourism, Retail
Looking for: Start-ups, businesses looking to expand, young professionals, skilled laborers, entrepreneurs, investors, developers, creative thinkers
The Adams County Regional Economy Profile provides an industrial and demographic overview for our geographic area. This comprehensive assessment is intended to provide pertinent information about the region's economic base, competitive attributes and population trends in order to help guide local and regional development. 
By referencing historical, current and projected data, local development officials and prospective business investors can quantify the state of the region's economy. Our thanks to the Ameren Economic Development Team for providing this profile tool.