Mid-America Intermodal Port
[share]
Have you heard about the Mid-America Intermodal Port?
Established in 1999 by a compact between Illinois, Iowa and Missouri, the 26-county, Mid-America Port Commission was designed to be a catalyst for economic growth in the Tri-States. The developer of the first of six proposed physical Port projects is the Mid-America Intermodal Authority Port District, an Illinois Port located in the South Quincy Development District on the Mississippi River, approximately one mile below Lock and Dam 21 .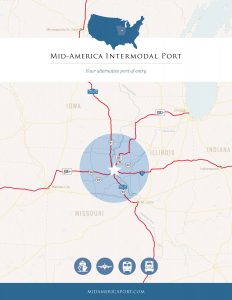 But what exactly is the Mid-America Intermodal Port? Let's break it down:
Mid-America: The middle of America, a physical location that aligns with global business strategies and offers major market proximity.
Intermodal: The movement of freight by two or more modes of transportation. This port will have the ability to ship, receive or transload between truck, rail and barge at the South Quincy site and between truck and air at the regional airports.
Inland Port: A rail or a barge terminal that is linked by rail or inland waterway to a seaport with regular inland transport services.
Why should we care?
The total project cost is estimated at $70 to $80 million. That's a huge investment for our region and translates into hundreds of jobs during the construction phase. Long-term, the Port will make the South Quincy Development District an ideal logistics location with more than 1,500 develop-able acres adjacent to the proposed Port location.
A number of companies currently located near the Port site have indicated the new Port facilities would drive significant capital investment and job creation adjacent to the new Port.
Promotion of the Mid-America Port development opportunities to prospective businesses and site consultants (such as this new brochure developed by GREDF) could lead to millions of dollars in investments by companies looking for a physical location that aligns with their global business strategies. The primary purpose and major benefit of the Port is to give regional businesses access to lower cost and best modes of transportation to help them stay globally competitive and keep jobs here.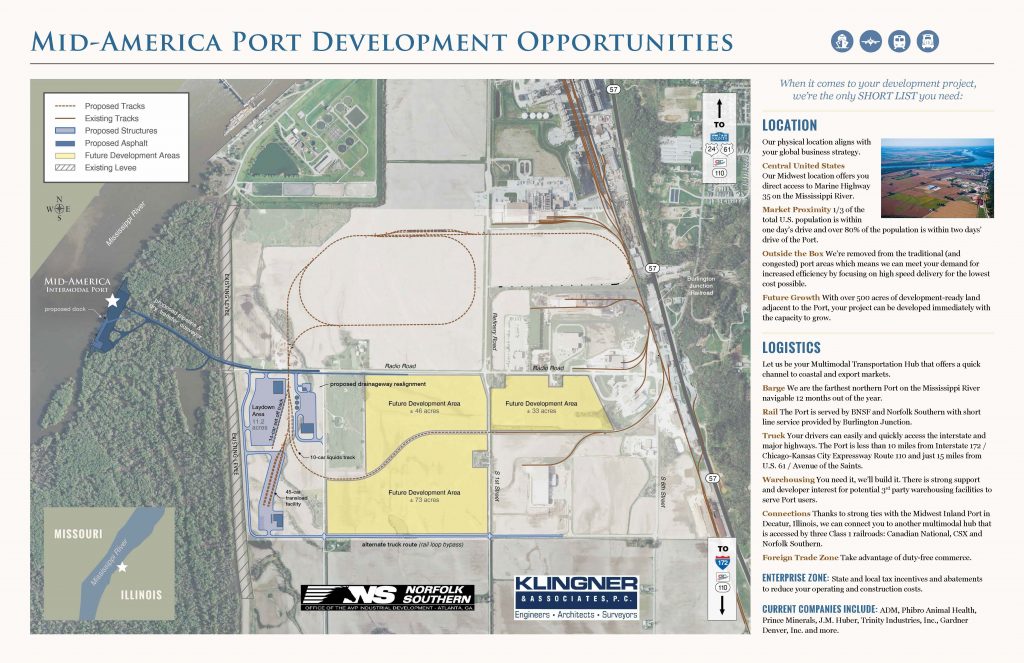 In the works:
Over the past several weeks, Port and economic development officials have met one-on-one with a number of key officials, including; Paul "Chip" Jaenichen, Administrator, U.S. Maritime Administration; William Paape, Director, Gateway Inland Waterways, MARAD; Governor Bruce Rauner; Jim Schultz, Director, Illinois Department of Commerce and Economic Opportunity; Randy Blankenhorn, Secretary, Illinois Department of Transportation; and Wayne Rosenthal, Director, Illinois Department of Natural Resources to share this status update:
The project has been selected as part of the USDOT Build America Transportation Investment Center Program, a fast-track project program providing technical assistance on permitting, public/private partnership structure, funding and other requirements.
A $1.3 million grant from DCEO for permitting, design and engineering has been approved.
The U.S. Department of Transportation Maritime Administration (MARAD) has requested and received regular updates on the status of the project.
The Port District and a local engineering firm are preparing the TIGER application.
The Bottom Line:
The Mid-America Intermodal Port has the potential to pay huge dividends for decades to come, maintaining and improving the economic vitality and quality of life of the entire tri-state region.
Click here to see the newest marketing piece for the Mid-America Intermodal Port. Want to know more? Contact us at 217.223.4313.