Vaccinate to Eliminate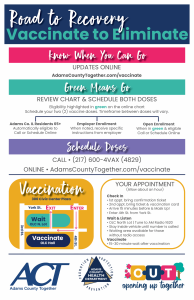 Our community is gearing up to Vaccinate to Eliminate
Know when you can go: Updates will be online
Green Means Go: See highlights in green
Review the chart online and when your industry is highlighted in green, you can schedule both your vaccine doses.
1. Adams County, Illinois residents 65+ are automatically in green and eligible to Call or Schedule Online when enrollment begins
– Adams, Brown, Hancock, Pike and Schuyler County Residents age 65 and older
2. Employer Enrollment: When noted, you will receive specific instructions from your employer
3. Open Enrollment: When highlighted in GREEN, you are eligible to Call or Schedule Online
Schedule Doses: When it's time
Call | (217) 600-4VAX (4829)
Vaccinations: Oakley Lindsay Center | 300 Civic Center Plaza
Appointments Only | Allow about an hour
Check In
– 1st appointment, bring confirmation ticket,
– 2nd appointment, bring ticket & vaccination card
– Arrive 15 minutes before & Mask Up!
– Enter 4th St. from York
Wait & Listen
– Park in OLC North Lot & Tune to AM Radio 1620
– Stay inside vehicle until number/time is called
– Waiting area available for the without radio access
Vaccinate
– 15-30 minute wait after vaccination